The quality and flavor of Pefrán Herencia Salchichón have been recognized this year with 2 Gold Stars Great Taste, the awards directed by the 'Guild of Fine Food', the most relevant and reliable accreditation system for specialty foods.
Heitage is the name that Pefrán gives to its line of products made with cebo-fed Iberian pork. This sausage factory has been combining tradition and innovation for over 30 years, resulting in award-winning products.
In the blind tasting carried out by 500 international experts, over 14,000 products were examined through a rigorous process; and about the Pefrán Herencia Salchichón, the judges stated that "when tasted, it is sweet and succulent and has a deep pork flavor enhanced by garlic and pepper. It is not too salty. In addition, the casing peels off very easily to leave us with a superb piece. The curing is perfect." About its appearance and taste, the jury - made up of chefs, agri-food distributors, restaurant owners, critics, and culinary writers - also highlighted "an attractive deep ruby color and good fat distribution. It is soft on the palate, with pork meat and condiments well combined, leaving a subtle warmth that persisted in the end.
The Herencia Salchichón from Pefrán is as delicious as the aroma suggests. The texture is moist and juicy, the distribution of the pepper is good but not excessive. The color is excellent, and there is a tempting vinousness on the nose and palate," commented the judges, describing the great success of this Iberian product during the Great Taste tasting.
The Pefrán Herencia Salchichón is made with selected Iberian pork meat, seasoned with sea salt, extra virgin olive oil, garlic and pepper, following the family recipe, and cured in natural dryers and cellars in Santibáñez de Béjar (Salamanca, Spain), surrounded by the Gredos and Béjar mountains. An ideal place for the natural curing of sausages.
Ángel Hernández Domínguez, CEO-Commercial Director of Pefrán, states that they are "delighted to have won another Great Taste award, this time for our Salchichón Pefrán Herencia. It is a pride to add the iconic black and gold Great Taste logo to the ones we already have for the Sarta Extra Ibérica Pefrán, Chorizo Cular Extra Ibérico, and Caña de Lomo Ibérico de Cebo."
Sergio Hernández Domínguez, CEO-Director de Operaciones of the awarded company, concludes that "At Pefrán we make Iberian sausages with care and dedication, but also attentive to the latest developments in the sector and the demands of the most demanding consumers, so receiving awards like this, which recognizes the fruit of our efforts, is a great stimulus. Great Taste is the most recognized award for taste and quality in the world of delicatessen food, so it is really a joy!"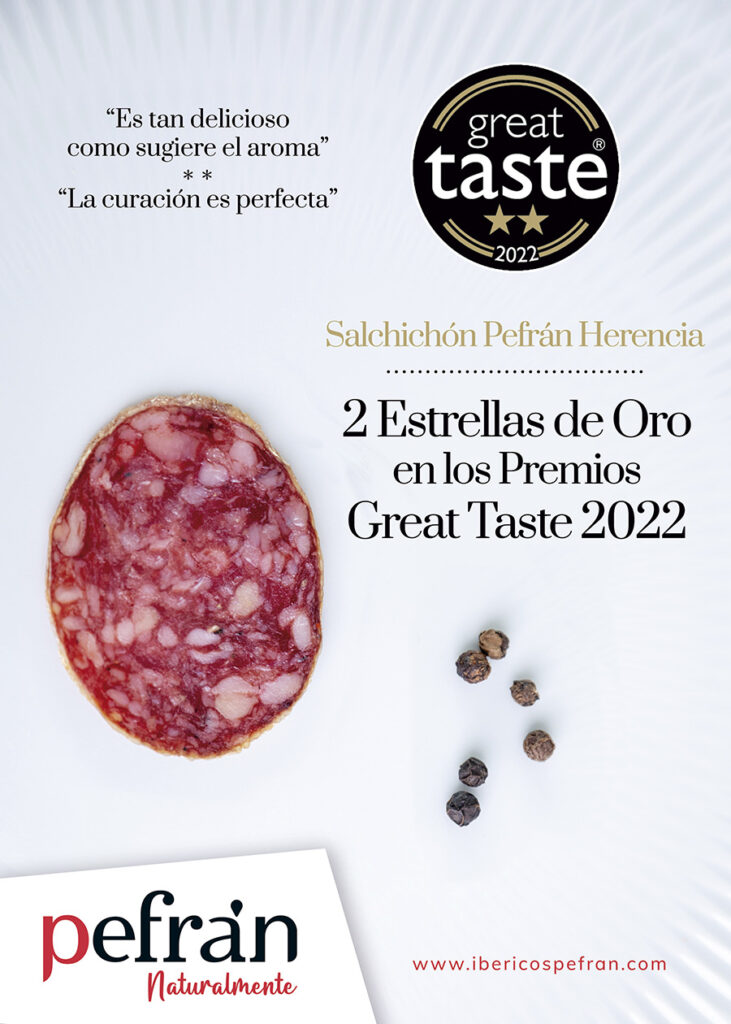 ¿Qué es Great Taste?
Great Taste is a renowned seal of excellence valued by both food lovers and retailers. Organized by the Guild of Fine Food, it values flavor above all else. All products are evaluated through blind tastings, without packaging or labeling, as any means of identification is removed before entering the evaluation process. This year, the tasting took place for 90 days in two locations: Dorset and London, with a panel of over 500 judges who evaluated food and beverages from 110 countries.
Great Taste, established in 1994, is organized by the Guild of Fine Food and is the world's largest, oldest, and most respected food accreditation scheme for artisan and specialty food producers. The complete list of this year's winners can be found at www.greattasteawards.co.uk